General Post Master Council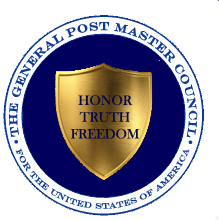 Meeting Minutes
CERTAIN COURT SEALS AMENDED AND BROUGHT FORWARD TO THE PRESENT
The General Post Master Council Seal, the Human Rights Tribunal Seal, the Clerk for the Human Rights Tribunal Seal and the Clerk for the Court of the General Post Master Council is amended and brought forward to the present time
Minutes
Criminal Procedures in law
20160212-OJHR-Criminal Procedure in law.pdf
General Procedures in Equity
20160212-GPMC-General Procedures in Equity.pdf
Human Rights Tribunal International
Letter of Acceptance and Acknowledgement as amended on 06-17-2018 from May 2nd, 2014, [1]
Website
General Post Master Council Accept Acknowledge Authority Law of Nations
20190423-GPMC-Accept Acknowledge Authority Law of Nations.pdf
Arrest Warrants
Publications
Name Change Jennifer Lyn Ryalls
VERIFICATION OF CHILD CLAIM
Anthony & Anne Redler
Heather Ann McMahan
Jennifer Lyn Ryalls 
Joshua Edwin Bradley
Kaleb A Kinsmoe
Michael Paul Scott & Erika Maria Scott
Shannon & Tina Beck
JUDGMENT AND ORDER
Judgment and Order-Beller, Cornett, Whitson, Barker
INTERNATIONAL ARREST WARRANT
20210316-GPMC-ARREST WARRANT-Beller, Cornett, Whitson, Barker.pdf
20180613-GOV-ARRST WRRNT-Owner and Operator of Virgo Triad-.pdf
Judicial Review of NH / HB1778 / 2018
20180326-GPMC-Judicial Review NH HB 1778.pdf
INTERNATIONAL ORDER
20180523-GPMC-INTERNATIONAL ORDER.pdf
Invoice-Texas-Comptroller-of-Public-Accounts-Rueda Jr.
20171013-GPMC-Invoice-Texas-Comptroller-of-Public-Accounts-Rueda Jr.-JM.pdf
Order of Estoppel
20170313-GPMC-Order of Estoppel.pdf
Example/Generic Motions for foreign courts
Notice: The General Post Master Council does not guarantee the outcome of any case while using the following motions. However, the use of the motions does establish the evidence needed to prove a human rights violation of Article 4 against the Universal Declaration of Human Rights.
Motion to Dismiss- Driving without a License
Motion to dismiss drivers license
Motion to Dismiss for driving without a valid registration
Motion to dismiss vehicle registration
Motion to Dismiss for driving without insurance
Motion to dismiss driving without insurance
The intent of these motions is to be used to eradicate slavery in all of its forms. They are not to be used with the intent of allowing anyone driving a motor vehicle to avoid responsible party doctrine. However, if the local courts are using their private courts to gain political power or fleece the Public at Large with made up charges or used to retaliate in violation of the courts neutrality, these motions are designed to defend against those human rights violations. The Government of The United States of America does exercise the intangible property doctrine within its Department of Transportation and therefore does possess human rights compliant driver's licenses, registrations and surety bonds. The state lawmakers have been and remain incompetent when writing state statutes wherein all state statutes fail to acknowledge intangible property rights of the people.